Information on the Workforce Development Fund and the Apprenticeship Levy
Workforce Development Fund – Open for 2021 applications
The Workforce Development Fund (WDF) is a funding stream from the Department of Health and Social Care, distributed by Skills for Care.
The fund allows you to claim back money towards the costs of your team completing a broad range of adult social care qualifications, learning programmes and digital learning modules. This enables you to have a continuing commitment to staff learning and development by enhancing their learning and development budgets. You can claim training certificates from 1 January 2021 to 1 March 2022.
How to apply
This fund is available to all adult social care providers. You must become a WDF Partnership member and be registered and compliant on the Adult Social Care Workforce Data Set (ASC-WDS). If you are not registered with ASC-WDS, you will need to complete the member declaration form and email this to Stacey.adrien@cahsc-cornwall.org.uk. Watch this helpful video from Skills for Care on the steps for becoming a member. You will need to submit the declaration form by 28 February 2022.
How to claim
Adult Social Care Workforce Data Set
Learn more about the dataset and how it can benefit you.
Digital learning modules for managers
Learning from events is free digital learning for adult social care managers from Skills for Care. For every staff member completing the module, you can claim £100.
Digital learning for managers is 11 digital modules from the Managers Induction Standard. This is for aspiring, new or experienced managers and leaders. You can buy the 11 modules for £75 per learner and claim back £550.
For each staff member that completes the above learning, you can make back £575! This is a good way to build a pot of money to pay for bespoke training.
---
Apprenticeship levy
What is the apprenticeship levy?
Devon County Council can transfer apprenticeship levy funds to other employers in Devon. You can use this fund for apprenticeships for your staff to help develop your workforce. This includes new apprentices or existing employees.
Who is eligible and has priority?
Organisations that deliver services to the most vulnerable in society and a need to build workforce capability.
Organisations that offer opportunities for people with learning disabilities and care experienced young people.
To prioritise requests from particular geographical areas, where evidence shows that there is the most need to build workforce capability.
To give priority to non-levy paying employers in the first instance.
Level 2 Adult care worker
Level 3 Lead adult care worker
Level 4 Lead practitioner in adult care
Level 5 Leadership in care
Level 5 Care leader
For any questions or more information, please email humnres.apprenticeships-mailbox@devon.gov.uk the HR apprenticeship team.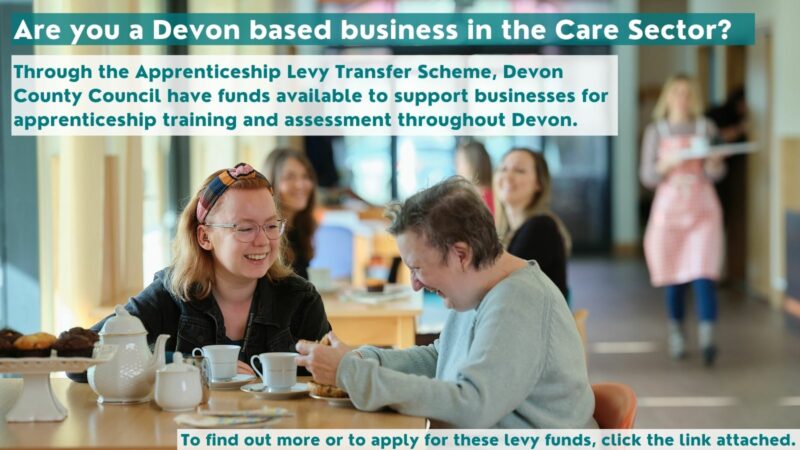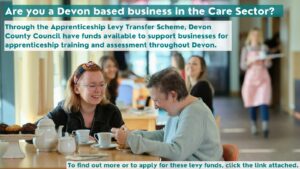 Transform your organisation with an apprenticeship
Apprenticeships are key to boosting skills and talent in adult social care and form a large part of government plans to create fairer opportunities and level up skills across England.
They are also a great way to transform your organisation because they provide opportunities to train and upskill new and existing employees in a way that is responsive to the needs and wants of your organisation.
By hiring an apprentice you could:
close skills gaps: 86% of employers said apprenticeships helped them develop skills relevant to their organisation
boost productivity: 78% of employers said apprentices helped improve their organisation's productivity
improve quality: 74% of employers said apprenticeships helped them improve the quality of their product or service
create opportunities to bring in new talent at any level
make valuable contributions to your business by ensuring that employees complete high quality apprenticeships that align with your organisation's needs
increase staff morale: 72% of employers highlighted that apprenticeships created higher staff morale
Sources: Apprenticeships Evaluation 2018-19 Report
National Apprenticeship Week from Monday 7 to Sunday 13 February 2022 "Build the Future"
Come and join our celebration of apprenticeships in health and care across the South West!
Celebrate success, be inspired, look to the future, share and learn from best practice
Meet fantastic apprentices and employers
Find out more about apprenticeships and apprenticeship pathways
Explore the benefits apprenticeships bring to apprentices, employers and patients
Register here to attend as many of the different sessions as you wish. You will be sent an invite for each webinar you register for. Webinars will be held on Microsoft Teams as live events. Aimed at: line managers, service leads, education teams, colleagues of apprentices, HR leads etc., current apprentices and anyone interested in apprenticeships in health and care.
A key part of each event will be hearing from you and your apprentices. If you are willing to share your (positive) experiences as either an apprentice, as an employer or as a system, or if you wish to nominate someone else, please do get in touch with james.orpin-wright@hee.nhs.uk We are looking for a variety of people from each professional group, from different backgrounds, studying at different levels and working in a range of settings across the region.
You must be:
Working in health or care in the south west region
Undertaking an apprenticeship, or have recently undertaken one (apprentices only)
Employing apprentices (employers only)
Taking a transformative system approach to apprenticeships (systems only)
Able to attend the session relevant to your professional area and be willing to either present your experiences or be part of a discussion panel with others
Willing to cover the following topics: Why an apprenticeship – benefits to service – benefits to employer – benefits to patient – benefits to apprentices
Please let James know by Friday 7 January 2022 if you would like to be involved.