MPS: Adult carers
MPS: Adult carers

Appendix
MPS: Adult carers
Appendix
Carers Offer
Levels 1 and 2 include advice and information, including via Digital Services and a Helpline, training, Peer Support, and some 1:1 support.
Training for Carers is commissioned directly by the provider and covers a curriculum across this range (illustrative, not comprehensive):
Core carers issues – introduction to caring
Practical Caring Skills
Advanced Skills, e.g. assertive communication, strategies for caring and managing time, legal issues
Key Life Points Challenges
Dealing with specific conditions
Life skills
Encouraging and supporting independence in the cared-for person(s)
Peer support – the contract provides support to carer-organised peer support of various kinds, including very small arrangements ('buddying'), geographically cased and specialised (according to the conditions of the cared-for persons). Peer support groups meet in in a variety of community and ordinary public facilities determined by carers themselves. Carers are inventive in finding very cheap or free venues and peer support groups meet in places that include village halls, garden centres and public houses. Where organisations can make space available free of charge to carers for these purposes this is particularly desirable.
The service also has commitments to improving community awareness of carers and by extension community support for them; and to supporting services, particularly health and social care services, to improve their responses to carers. Where services and organisations require support, particularly in respect of carer awareness training and this is not part of the contract Caring Well in Devon, services can approach Devon Carers for advice and purchase of service. Devon County Council can also provide free of charge a simple Carer Recognition Tool for front line staff and managers.
The provider, Devon Carers is carer-led, a Member of the Carers Trust and has the Carers Trust Centre of Excellence award for its work with adult carers.
Outcomes and benefits
Outcomes/ benefits we are seeking for the service user (carer):
I have choice in and about my caring role.

I find support in my community and from local community organisations

I can easily find the information and advice I need in my caring role.

I have a contingency plan for when I cannot care

I am respected as an expert partner in care

I am able to care safely, confidently and effectively.

I am able to maintain my own health, wellbeing and independence

I am able to achieve my own most important life-goals, including education, training and working

I am assured of the quality of the services I and the person(s) I care for use, and that my views are taken into account.

I am supported to achieve the above when I have difficulty in doing so and am involved in designing the support I need

I am able to share my experience and knowledge as a carer with other carers
Benefits for the commissioning organisations and the wider community:
More carers are well informed and are confident in their caring role
Emergency admissions to hospital and to residential care are reduced/delayed (as a result of the care given by the carer)
More carers in crisis are supported quickly, locally, and efficiently and can access preventive health and wellbeing services
More carers report that they feel well safe, supported and able to have the breaks they need.
General Practice and Health and Social Care service staff are carer aware and understand how to work with carers and link them to sources of support.
Communities become more aware of carers and caring and are better able to support them.
Needs analysis
Year                           Total adult carers
2018                          86,595
2019                          87,116
2020                          87,609
2021                          88,101
2022                          88,536
2023                          88,951
2024                          89,384
Age
44% of Carers, where their age is known, are of working age (18-64). 24% of Carers are in the 65-74 age bracket, 20% of Carers are in the 75-84 age bracket, and 12% of Carers are aged 85 or more.
Figure 1 – age profile of known carers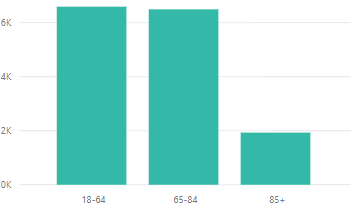 Gender
Male Carers are not recognised as often as female carers. 70% of Carers known to us are female and the subsequent 30% are male. The actual proportion of male carers in the population is understood to be 40%.
Figure 2 – gender profile of known carers: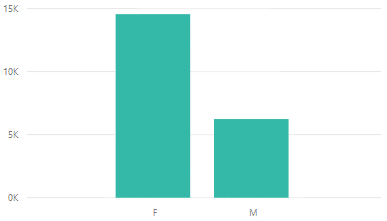 Ethnicity
When the numbers of carers who have declined to state their ethnicity is taken into account 97% of Carers known are White British, broadly in line with the demographics of Devon. Other ethnicities follow similar patterns to the 2011 UK Census.
Figure 3 – ethnicity profile of known carers:

After White British, the next largest group (1.5%) of carers is those of any other white background.
Employment status
79% of Carers have not stated their employment status, but of those who have, 53% are retired. 47% are in employment, or some form of volunteering or in education.
Figure 4 – employment profile of known carers:

There is an unknown number of Carers who have a learning disability. This particular cohort of carers is likely to be at greater risk.
A significant proportion of carers give up work to care every year and while this may be a choice more carers need support to enter, continue in or return to employment.
'Sandwich' carers
397 carers are known to care for two people, 26 care for three people, three care for four people, and one carer cares for five people.
Where a carer is caring for two or more people, the age of the cared-for persons is generally within the 18-64 age range.
(This does not take account of carers also caring for children, whether or not these children have special educational needs or disabilities. Caring while having other family responsibilities can create significant additional stress for carers).
Demand profile
3,889 (18%) of carers known to us were assessed/reviewed in the 2017/18 financial year, of these 523 carers were identified as requiring replacement care to meet their assessed eligible needs for support.
Figure 5 – allocation of support to carers: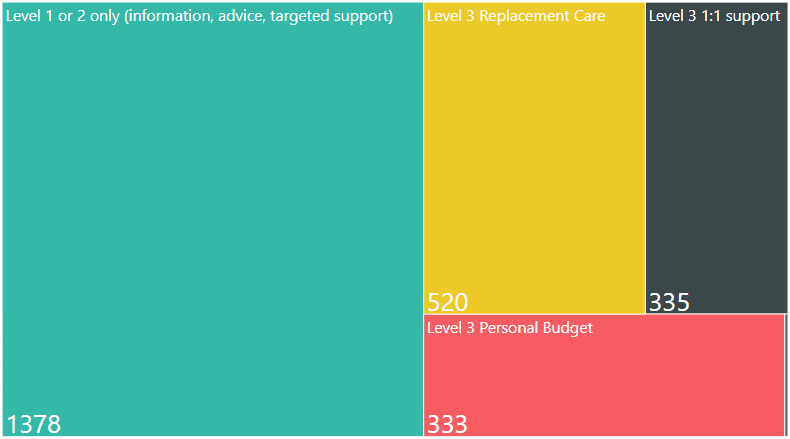 The pattern of carers' locations known can be compared with the pattern of carer locations in Figure 7, locations identified in the 2011 census.
Figure 6 – carers known to Devon County Council: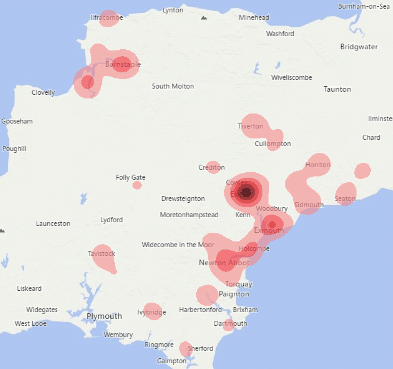 Figure 7 – carers identified in the 2011 UK Census: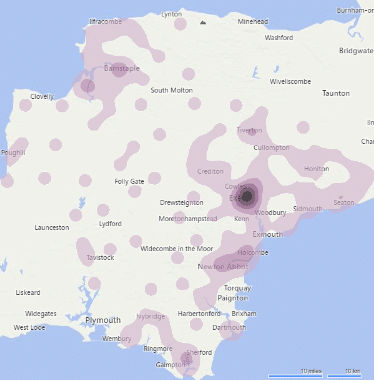 (Return to the Market Position Statement)
Last updated: 16/09/2020