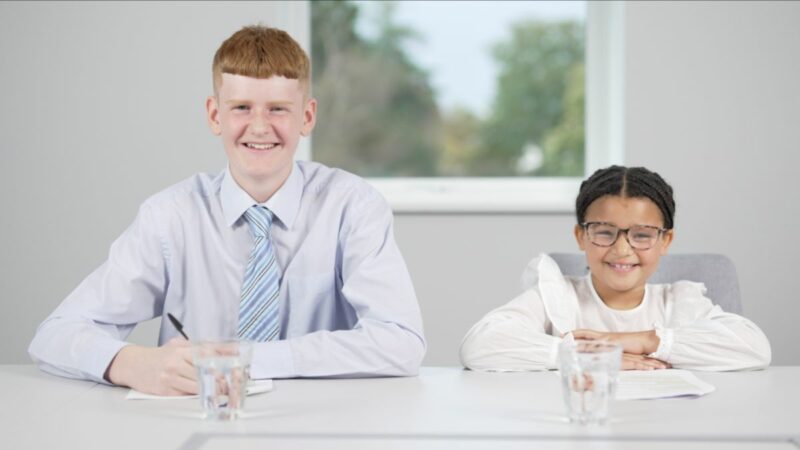 We need more foster carers to help us look after children and young people who are in our care.
The more foster carers we have, the better matches we're able to make, with better outcomes for the young person.
In our latest recruitment campaign, we've been working with existing foster carers to encourage potential foster carers to consider fostering as a career.
We're identifying some of the reasons why people may not enjoy their current job, to explain that being a foster carer is not like that.
"Fostering is a very different type of job, but I can bet you, it's so much more rewarding," says one of two young people featured in a new video we've published on our website.
We've taken inspiration from Alan Sugar's long-running TV series, The Apprentice, and created our own version.
"You're hired!" sets two young people, representing the Fostering Devon service, interviewing across a large desk potential foster carers, (who are in fact actual foster carers).
"Why do you want to be a foster carer?" asks one of the panel.

"We'd like to foster because we'd like to give a young person a safe, warm and welcoming home," comes the reply.
By highlighting some of the negative things that some people might find with their current employment – the 9am to 5pm desk job, poor job satisfaction, Sunday evening dread at the thought of work the following morning – we've wanted to show a parallel with work, but illustrate that being a foster carer is very different.
"I think fostering is far better than a 9am to 5pm job," says one foster carer in our campaign. "We get to do fun things as a family with no time restrictions."

"I am a gardener, but I'd love to be a full time foster carer," says another.
'Make memories, not meetings'; 'Swap your desk for working at the beach'; 'KPIs (Key Performance Indicators) or changing lives', are some of the strap lines we've used in our campaign.
"Do you know you get paid for each child you care for," says one of the young people on the panel. "And you get additional allowances to care for us too," says the other.

"You're hired!," they confirm together, smiling and pointing at their candidates in front of them, in true Alan Sugar style.
If you have ever considered becoming a foster carer, we would love to hear from you. It can be a very rewarding career, with a lot of support behind you from our Fostering Devon service. You can contact us for an informal chat, or visit our website for more information.
You can also follow us on our Fostering Devon facebook page.