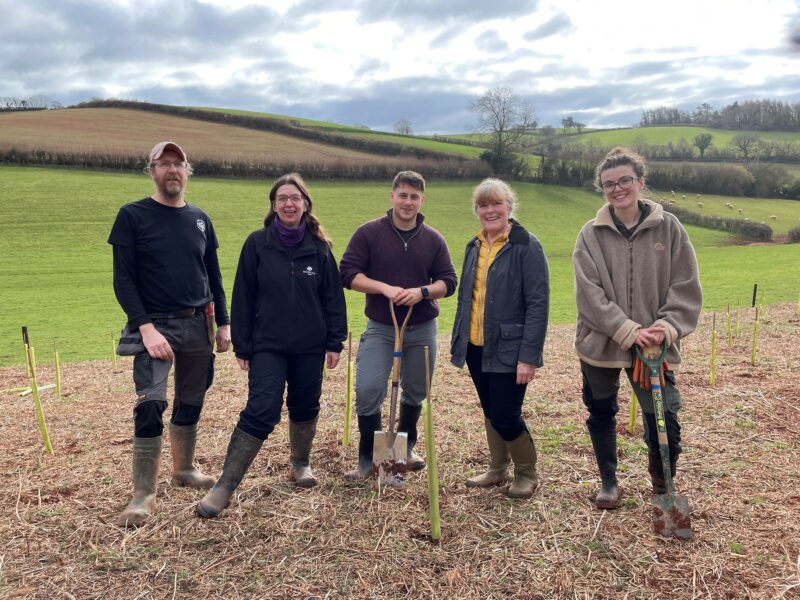 More than 9,000 trees are being planted on our County Farms this winter as part of the ongoing Emergency Tree Fund planting.
One of the biggest planting sites is at Bulleigh Elms Farm, near Newton Abbot, where volunteers are currently helping to plant 3,250 trees, co-ordinated by local not-for-profit social enterprise ParkLife South West.
They are among a total of 16,500 native broadleaved trees being planted in Devon this winter through the Emergency Tree Fund granted by The Woodland Trust. The initiative is enabling private landowners and local councils to plant trees in response to the Climate Emergency and help achieve carbon net zero targets.
Councillor Andrea Davis, Cabinet Member for Climate Change, Environment and Transport, said:

"Our County Farms tenants, like all farmers in Devon, are custodians of our local environment so it's a perfect fit for these farms to become home to new woodland areas. By helping with the planting of these trees through the Emergency Tree Fund the County Farms are making an important contribution in helping to tackle the climate emergency."
Ross Kennerley, South West Regional Director for the Woodland Trust, said: "Our aim is to support landowners to create woodland, whatever the scale of their plans. Our Emergency Tree Fund enables us to work with partners to expand that support beyond our own planting offers. We want to be able to support farmers to plant trees on their land, not only to help create wildlife habitats and climate change but to provide other benefits such as protecting soils, slowing water run off and providing shelter for livestock."
Keith Rennells, from ParkLife South West, said: "There are so many good reasons to be planting trees right now. People are looking to respond to the climate and biodiversity emergencies by taking action in their local area, and having lost so many diseased ash trees, we're also planting to protect and enhance our wonderful Devon landscape. And of course, it's good for our health and well-being to be planting trees with like-minded folks in the great outdoors."
We have been offering free packs of trees to landowners and communities within Devon for a second year thanks to the Emergency Tree Fund.
We're also working closely with the Woodland Trust to support the Saving Devon's Treescapes initiative. Run by Devon Wildlife Trust on behalf of the Devon Ash Dieback Resilience Forum, and with assistance from the National Lottery Heritage Fund, this project is promoting community engagement in tree issues to help Devon's landscapes to cope with the devastating loss of ash trees through disease.
We will also be using a £300,000 grant from Defra and the Forestry Commission's Woodland Creation Accelerator Fund (WCAF). The support will be used to develop, design and organise proposals for tree and woodland planting initiatives on public and privately owned land in Devon, Torbay and Plymouth this winter and next.
To find out more about the Emergency Tree Fund please visit our dedicated webpages.
Information on funding support and advice on how to plant in the right place with the right tree is available on the Devon Local Nature Partnership website.