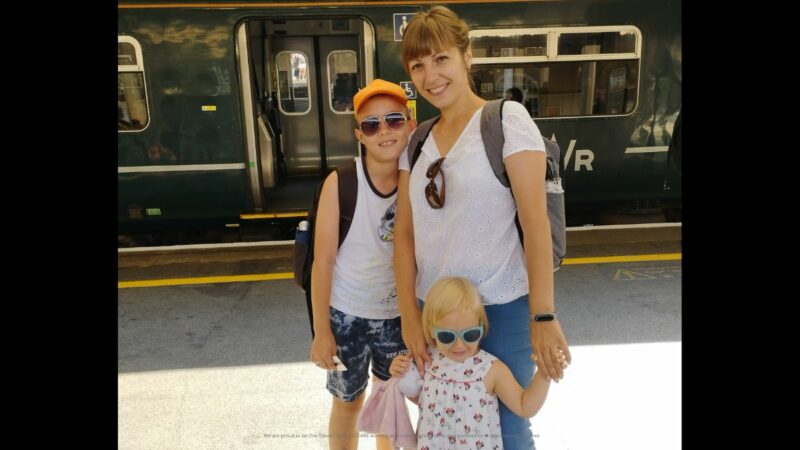 A Ukrainian teacher who was forced to leave her country to protect her children in the wake of the Russian invasion, has praised the 'amazing' people of Bradninch, near Cullompton, for welcoming her family into their community.
Oksana Holubenko, 38, made the difficult journey with her two children Alex, 11 and Uliana, three, from Western Ukraine to England last June, under the Homes for Ukraine scheme.
The Government scheme is managed locally us and so far thousands of people have willingly opened their doors to 1,800 Ukrainian nationals fleeing from the Russian onslaught.
And while the area they lived in was comparatively safe when compared to the capital Kyiv, the frequent air raid sirens was a constant reminder of the dangers, and Oksana says they spent most of those first few weeks in shelters:
"We were all desperate, frightened and hopeless during those first weeks after the war started," she said. "I will never forget the 24th of February morning, when the first bombs fell over Kyiv. Nobody will ever forget it.
"This was very scary, especially for Uliana."
Making the decision to leave her home, and the country she loves, was difficult particularly given that her brother and parents are still in the country, as is her husband, who serves in the armed forces.
"They are very happy that my children and I are in a safe place," she said. "They, like all other people who remain, suffer from regular power cuts and sirens. But they say they've lived enough and are not going to leave the country."
She adds: "The most important thing for me is the safety of my family. Every day, every single minute a family loses the life of one its members. As any parent will know if your children are safe and happy, then everything feels so much better."
And happy they are. After landing in Luton, their host family met them and gave them a lift to Devon as they were aware how difficult it was to have such a long journey for the children.
They arrived in Devon to be greeted by their host family, Arthur Victor and Patricia Jane Ebdon.
Uliana now attends pre-school in Cullompton and Alex, who turns 11 this week, for settled into village and school life very quickly:
"He finds it very exciting. Alex is up and ready to go to school far earlier than he needs to be," she says. "He has made friends and loves being here.
"He is engaged in school life so much, takes part in different after school clubs and plays for Bradninch football team."
Oksana is effusive in her praise for their host family: "They are the most wonderful, supportive, helpful, sensitive and loving family I have ever met. After my own family of course!
"They let us live in their amazing house with a wonderful garden. From the very first day we are here, we never felt that it is not our home."
She adds: "I have never thought I would have found another family in completely different country, but it is true.
"My children love them like their own granny and grandad as they have missed their own ones so much. And I am sure Vic and Pat love them back as much. I share all the news with them and always get the support we need. We are very lucky to have this family as our hosts and close friends now."
As for Oksana? As a qualified ESOL tutor of more than 12-years' experience, she is putting her skills to good use, tutoring Ukrainian students and working as an education support teacher for us.
"Life here is wonderful," she says. "I adore the culture and people, and always loved my job, so that is amazing to have the opportunity to continue to help people from my country to learn English and improve my own."
She misses her family but speaks to her husband as often as she can and says she is lucky to live in such a picturesque, quiet village with its 'amazing' people.
Oksana turns to thoughts about the war in her country: "I hope that the world will understand one day, that if we don't stop Russia today, the next day it can invade into your country.
"They don't have any morality or understanding of what is wrong or right. I feel sorry for those who are left behind, who are suffering especially in the East and South of Ukraine."
Drawing parallels with the current Russian regime and the rise of Nazism in the 1930s she said:
"All the countries who remember the two world wars and all the horror and despair they left after.
"Given all the suffering, the damage caused, and the lives lost in Ukraine, we all should remember how those two previous wars had begun and take a historical lesson from it.
 "Nobody knows for sure what our future is, but I do believe in our victory and that Ukraine is going to be a democratic, prosperous, successful and developed country.
"But it will take a long time to recover economically, mentally and politically after all the damage Russia has done and keeps doing every day."