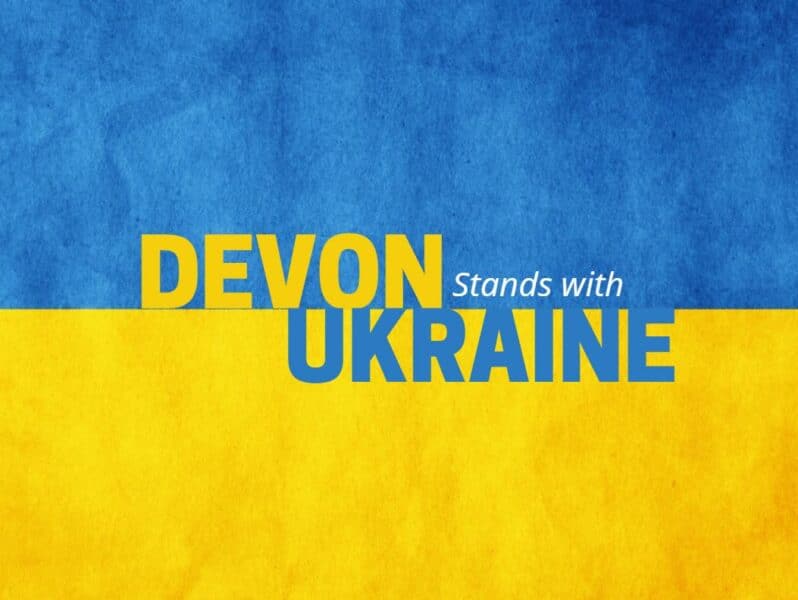 A one minute silence is being held across the UK at 11am this Friday, 24 February, to mark one year since Russia's invasion of Ukraine.
Prime Minister, Rishi Sunak, is expected to lead the nation in silence from Downing Street.
We and the Government are encouraging people across the UK to participate in this moment of reflection.
"Since the war began, thousands of Ukrainians have been killed defending their freedom from Russia's appalling onslaught," the government has said.

"Millions more have been forced from their homes, with 114,400 Ukrainians finding refuge in the UK under the Homes for Ukraine Scheme."
In Devon, we've seen around 1,780 people arrive from Ukraine to stay with hosts and sponsors.
And more than 5,000 Devon residents registered an interest in taking part in the Homes for Ukraine campaign.
Councillor Roger Croad, our Cabinet Member with responsibility for communities, said:

"I'd like to thank all our residents who have been involved with Homes for Ukraine scheme.

"And as we approach the first anniversary since Russia's invasion began, I'd like us all to mark the moment with the nation's one minute silence at 11am this Friday."