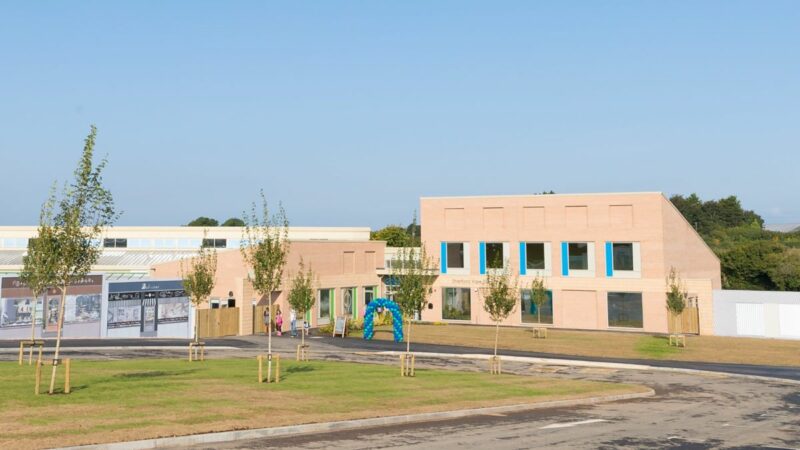 A major extension of Sherford Vale primary school begins today, which will create a new wing to double the capacity of the school to meet the needs of the growing community at Sherford.
The project will include the creation of eight new classrooms at Sherford Vale, increasing capacity from 210 to 420 pupils between the ages of 2 and 11.
Due for completion in Spring 2024, the extension work is being funded by the Sherford Consortium – a partnership between award-winning national housebuilders, Taylor Wimpey, Countryside Partnerships & Vistry Group, which includes Linden Homes and Bovis Home. The work is also being supported by us, to enable the project to be delivered ahead of the planning obligations.
Situated at the heart of Sherford, the extension of Sherford Vale primary school will mark the completion of the first of four new schools that will serve the new town and the surrounding areas. Sherford Vale has high-quality facilities and state-of-the-art equipment and was recently rated 'good' by OFSTED. Families with reception age children due to start school in September 2024 will be able to apply for places via their local authority from this November.
Susie Evans, Headteacher at Sherford Vale said: "As Sherford continues to grow, the expansion of Sherford Vale means we can offer school places to twice as many local children. We have already created an exceptional place to learn, play and grow and look forward to welcoming many more families into our community.
"For our existing pupils, the extension is an exciting learning opportunity. The children are keen to be involved – from creating Lego models of the new extension to getting hands on with art, design and landscaping projects – the whole school will embrace the opportunity this expansion brings."
Councillor Andrew Leadbetter, Cabinet Member for Children's Services and Schools, said:

"It's extremely encouraging to see Sherford Vale Primary School doubling its capacity with this extension. Schools are always an integral part of any community and it's no different in Sherford. Sherford Vale has grown rapidly since opening in 2018 and we're proud to be supporting its continued growth, building on the success of its first five years."
Noel Staunton from Taylor Wimpey, part of the Sherford Consortium said: "The expansion of Sherford Vale is a significant moment in the development of Sherford, marking the completion of the first of what will be three primary schools and one secondary school. Now a well-established community, many families are choosing Sherford as a place to live and bring up their children, so we are pleased to create many more school places within this welcoming new town."
Peter Sadler, Managing Director of Countryside Partnerships South West, part of the Sherford Consortium, added: "The creation of Sherford Vale was one of the first milestones in the town's development and the school has thrived since then. To double the school's capacity is testament to how far Sherford has come in just a few years. This progress will continue with the many more community facilities planned for Sherford."