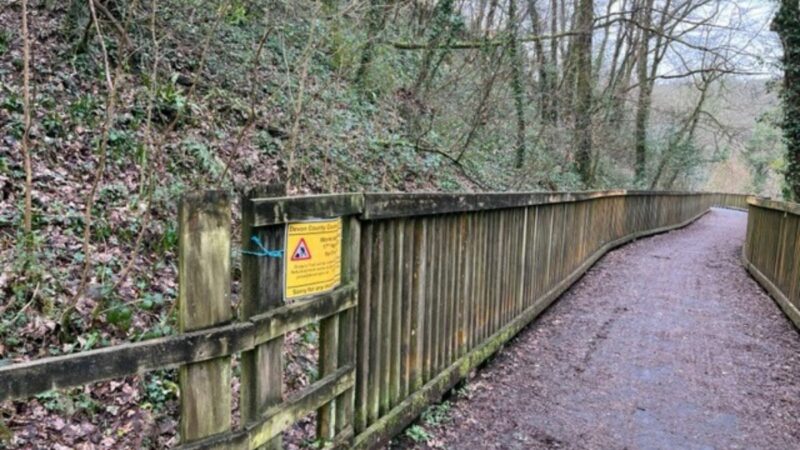 **UPDATE**The aerial walkway is now expected to re-open on Tuesday 6 June. It follows delays to the work to replace the existing timber. Access to Gem Bridge is still available from the south. Until the walkway re-opens users of the trail are asked to continue with their current travel arrangements or alternative routes, and cyclists are reminded to please respect signs asking you to dismount.****
Essential repair work will be carried out on a section of Drake's Trail between Tavistock and Horrabridge, starting next week.
Between Monday 17 April and Monday 22 May, part of the trail on the Gem Aerial Walkway will be closed from just south of the Grenofen Tunnel to the northern end of Gem Bridge.
The five-week closure is needed in order to replace existing timber throughout the walkway that links to Gem Bridge. The timber has reached the end of its serviceable life and needs replacement.
For safety reasons the timber structure will have to be taken down, which means that access cannot be maintained while work is carried out. The wood will be replaced with a fibre reinforced plastic material (FRP) which will be more robust for this location and provides a long-term maintenance free alternative.
During the closure period, users of the trail will need to either seek other travel arrangements or plan alternative routes.
Other sections of Drake's Trail will remain open for use throughout, with access to Gem Bridge still available from the south. However, from the north, users will be able to access as far as the northern end of the Gem Aerial Walkway located approximately 600 metres south of the Grenofen Tunnel.
Advanced notices of the closure are in place in a number of locations on the route between Tavistock and Horrabridge.