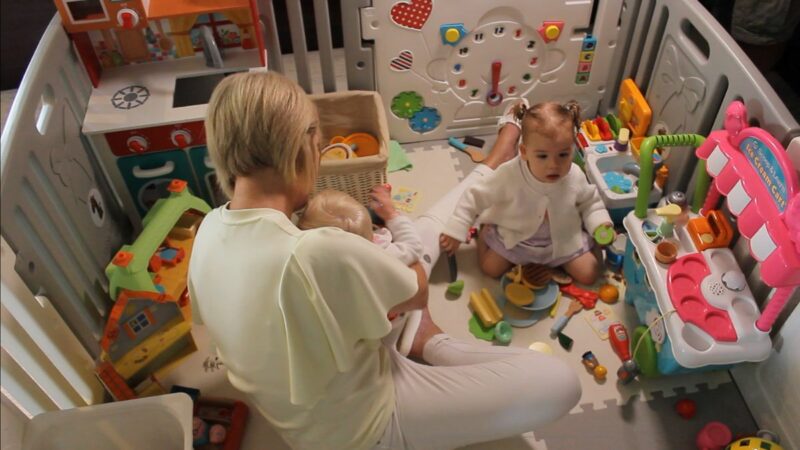 A new programme in South Hams is improving the way that foster carers support each other and the children that they look after.
It's a pilot, focused on building a support network around foster carers and their families, and it's modelled very simply on a family structure.
Imagine our family tree. There are grandparents, with years of experience in caring for children. They're able to oversee, give advice when needed. They're key, influential figures in our family group, respected for their knowledge and the care and experience they share with others in the family.
Then there are parents, some relatively new to parenting, others with a few years' experience. There are nine of them in our family group.
And there are children, some are siblings, most are not, but linked by virtue of them all being part of the family.
Now, imagine the grandparents are experienced foster carers, with years of valuable experience of looking after fostered children.
The parents are also foster carers, with a range of experience – some new to fostering, others with more experience – learning from each other and from the grandparents.
And the children are children in care who are now living with foster carers.
That's the model. It's called the Mockingbird programme, and we have been piloting it in the Totnes area since November 2022.
Husband and wife, Sarah and Andy Whitby are the grandparents in our Mockingbird family.
They're supporting nine foster families, which include 13 fostered children and young people.
They meet frequently, at least once a month in Sarah and Andy's kitchen, and also arrange regular social activities and opportunities to get together.
They chat, they talk about what's going on for them and their families, and they catch up and laugh together about the things that families do.
The children cook and eat together, play games, share their stories, and have relaxed fun together, like cousins or other relatives would.
They're one big family.
But what's happening is that this new structure of support is helping in various different ways.
It's bringing fostered children together, and they're benefiting from the contact with each other. Older ones and younger ones, they all learn from each other and share the common experience that they all have.
It's bringing foster carers together. Some of them have more experience of fostering than others, and between them they can support, advise and care for each other with no fear of judgement.
And it's bringing them all together, often around the kitchen table, under the watchful and experienced eyes of their family hub carers, who have seen it all, have learned a lot and have a lot to share.
The children say it's important and beneficial to their wellbeing to be able to meet others with similar experiences.
"I wasn't sure about Mockingbird at first, but now I love it as I've made friends," says one young boy.
"The hub home is just amazing," says another child.
"You're just like my family now," says a younger one.
The foster carers say it's supportive to have this family around them who can help, and who they can share their experiences with.
And it's making a difference. The new family structure is helping with the transition for new young people into foster care. It's also improving the stability of placements, and has already prevented a potential breakdown of one placement within the group.
It's also providing the support to foster carers, helping them to be good carers to young people.
"I think having the Mockingbird group has made it easier for me to want to foster a second child as I do feel so much more supported," says Nikki.
"What would I do without you…I feel I can be me at your support groups," says Glenda.
"Mockingbird gives other people a better insight into another way to be a family," says another of the Mockingbird carers.
Hub Carer, Sarah Whitby, said:
"Mockingbird has allowed us to open our home to over 40 people, our Mockingbird family. It's about making memories, building strong trusting relationships and providing an additional layer of support to anyone within the satellite families whenever they may need it. We want children and carers to feel that they are welcome in our home anytime and that we love spending time with them."
We spoke to Sarah, and a few of the Mockingbird foster carers to find out what the pilot means to them. You can hear what they said, in our video.
Emma Nobes, Service Manager for Fostering Devon, said:
"We're thrilled to be delivering the Mockingbird programme. It's been a real privilege to develop the model, working with our fantastic foster families in Devon.

"It's brilliant to see how strong and nurturing friendships have developed across our Mockingbird families and how these relationships are helping our children and young people to flourish.

"I'd like to thank Sarah and Andy and all our Mockingbird foster families for making this first pilot a real success."
The Department for Education has recently confirmed 12 months' funding to help expand the number of Mockingbird family hubs in Devon. And the we have identified additional funding as well.
"I'm very excited about expanding the model further across Devon," says Emma.
A national Independent Review of Children's Social Care report last year recommended that the Mockingbird model of foster carer support be adopted by local authorities.
Our Chief Executive, Donna Manson, joined the family on one of their social events.
"I had the privilege of spending some time with our Mockingbird programme family recently and it reminded me of the wonderful 'human angels' we have working on our behalf to help us look after our children in the care system.

"As corporate parents to all of the children in our care, we all have a responsibility to help our children and young people in care."
Councillor Andrew Leadbetter, our Cabinet Member with responsibility for children's services, said:

"The Mockingbird Programme creates a family wrapped around the fostering family. Projects like this are really making a difference and is just one example of not only the wonderful staff we have who have created and support this work, but also how there are so many people in Devon who work in partnership with us to make a difference to people's lives.

"We are always looking for more foster carers.  Please come and talk to us, and we'd be delighted to tell you just how rewarding an experience it can be."
To find out more about fostering, visit Fostering Devon, Change a young person's life and consider Fostering Devon