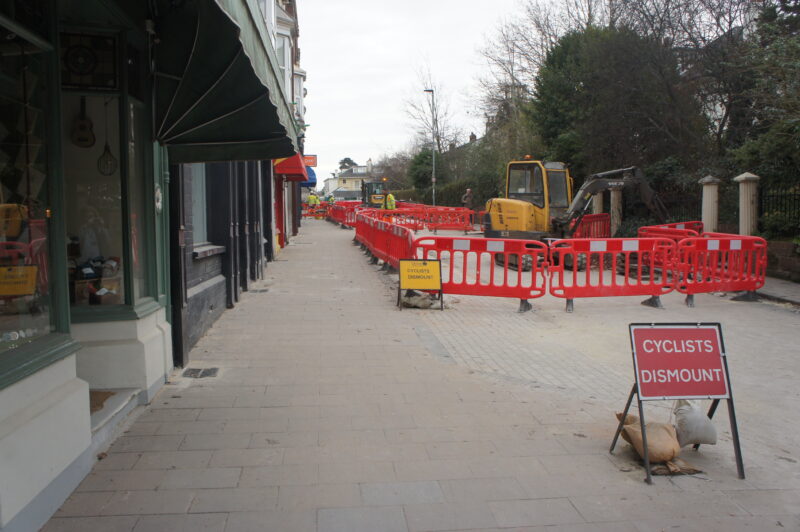 We're making good progress in our scheme to make the changes to the layout of Magdalen Road in Exeter permanent – and the next phase is expected to begin later this week.  
Magdalen Road, between the Denmark Road and Wonford Road junctions, is currently closed – we expect to reopen this section on Thursday, March 9, which will allow the next stage to take place.
Then the upper section of the road, from Wonford Road junction to College Road / St Leonards Road junction, will be closed until May.
However before the end of this month (March) we aim to reopen the southern section of Denmark Road, between Spicer Road and Magdalen Road.
We've also taken steps ensure access to Wonford Road is maintained – the one-way system on Magdalen Road will be temporarily reversed, with traffic permitted to travel eastbound only.
The scheme is expected to be completed this summer and we are making the temporary measures introduced in June 2020 permanent.
Our scheme uses funding from the Government's ring-fenced Active Travel Fund.
Once complete we hope the changes will encourage cycling and walking, while maintaining vehicle access for local businesses and residents.
The widened footway and one-way vehicular traffic (with two-way cycling) will be maintained and a new restricted parking zone and raised crossing point will be introduced.
We are also introducing additional planting and cycle parking.
Businesses remain open during each phase of the works and we have provided alternative delivery areas and parking.
People making journeys within the area may wish to allow additional time to follow the diversion in place or take an alternative route.
Our scheme expands Exeter's strategic cycle network and a  Public Consultation on further plans for walking and cycling within Exeter is currently underway.
Due to the road closure, the limited waiting bays on the affected section of Magdalen Road will be suspended.
Exeter City Council is providing eight spaces in the Magdalen Road Car Park for Magdalen Road shoppers to use for free.
These will be usable for up to 1 hour at a time, with no return within 2 hours, as per the existing limited waiting bays.
Signed diversionary routes, including for cycles, will remain in place. People cycling are reminded not to cycle on footways, unless expressly permitted.
Councillor Stuart Hughes, Devon County Council's cabinet Member for Highway Management, said:

"This scheme is an important part of work to expand Exeter's strategic cycle network, connecting residents to jobs, shops and green spaces.

"Businesses will remain open and we have made arrangements to ensure they can be accessed and deliveries can take place."
For further details of road closures and changes to parking, cycle routes and delivery arrangements, please go to DCC's website.