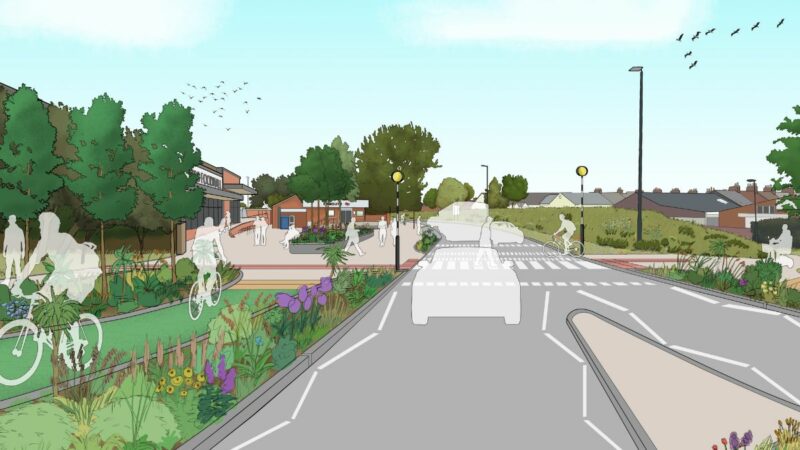 Multi-million schemes to improve transport links in Exmouth and Okehampton are among more than 100 projects receiving a share of £2.1 billion through the government's latest round of Levelling Up funding.
We've been awarded the full amount of its £15.7 million bid to complete the Dinan Way link in Exmouth, while West Devon Borough Council has successfully received £13.4 million to develop a new railway station on the eastern edge of Okehampton.
The funding for the Destination Exmouth project will enable the completion of Dinan Way link road, helping to tackle congestion and remove traffic from the town centre. The project, which is also supported by East Devon District Council, will improve walking and cycling routes as well as enhancing the town's transport hub.
The West Devon Transport Hub will build on the successful reinstatement of the Dartmoor Line in November 2021. As well as a new station on the outskirts of Okehampton, the scheme will also include cycle facilities and electric vehicle charging points to promote active travel and green travel.
Councillor Andrea Davis, Cabinet Member for Climate Change, Environment and Transport, said:

"This is brilliant news for the people of Exmouth and Okehampton, and a boost to the regeneration of the towns. The Destination Exmouth scheme will not only enable Devon County Council to complete the Dinan Way link road to reduce traffic going through the centre of Exmouth, but it will also fund improvements to walking and cycling routes, and public transport.

"The Dartmoor Line to Okehampton has been hugely successful with more than 250,000 passenger journeys in the first year. The development of the West Devon Transport Hub with an additional station will be another positive step for the local economy while reducing carbon emissions."
West Devon Borough Council's Leader, Councillor Neil Jory, said: "This is a huge achievement for West Devon and we're absolutely delighted! It's fantastic news for Okehampton, and the Borough, providing an interchange from the A30 to Exeter and the strategic rail network. Okehampton has so much to offer and this transport hub, which builds on the success of the Dartmoor Line, will make travelling to the town even easier.
"The new integrated travel links include a new station, specifically designed for the town. A car park with EV charging points and cycling facilities, which are essential for this town with the hugely popular Granite Way cycling nearby, and walking routes on its doorstep, along with the northern edge of Dartmoor and all its walks. This is really wonderful news and I'd like to thank Devon County Councillor Andrea Davis, Mel Stride MP, OkeRail and our own Economy team who have given their support to this project."
East Devon District Council's (EDDC) Leader, Councillor Paul Arnott said: "EDDC welcomes this latest round of funding and is looking forward to the difference it will make to residents, fitting in neatly with the authority's current developing placemaking plans. Devon County Council, with our support, has secured more than £15million for levelling up projects in Exmouth.
"This money will help to shape the placemaking ideas which came forward, thanks to the local community and councillors across all levels, as part of EDDC's recent placemaking consultation, which more than 1,400 people responded to. These projects will help give the entrance of the town, for those visiting by road, rail or cycle, a much-needed facelift – making the area more attractive, welcoming and user-friendly with improved signage to the town centre and seafront. Exmouth's prospects have greatly improved in the last few years and if we all pull together and crack on, leaving politics out of it, then all the better for everyone."
Councillor Lois Samuel, Devon County Councillor for Okehampton Rural, said:

"It is fantastic news, a second station on the eastern edge of town is key to maximising the benefits that re-opening the existing station has brought to Okehampton. I'm delighted that all the hard work of our MP Mel Stride, local councillors and Okerail has paid off. The funding is also going to bring significant environment benefits, taking more cars off the road, and promoting greener travel."
Councillor Richard Scott, County Councillor for Exmouth, said:

"Fantastic news for Exmouth and the surrounding areas. The link will open the North of Exmouth to better bus, walking and cycling routes. Heavy vehicles will be removed from residential streets. This is the result of many years of hard work with our cabinet colleagues, MP Simon Jupp, officers and the support of East Devon District Council and Exmouth Town Council. Let's get the shovels in the ground."
Another project in the county to successfully bid for funding is Torridge District Council's Appledore Clean Maritime Innovation Centre which has been awarded £15.6 million of Levelling Up funding.
The centre will focus on research and development of green technology, working with the University of Exeter, University of Plymouth and private companies. The scheme is expected to attract private investment and create nearly 100 high skilled jobs. More than £1.3million from Devon County Council's Community Renewal Fund was also awarded to the North Devon UNESCO Biosphere Foundation, partly towards the development of the Appledore Clean Maritime Innovation Centre.
Levelling Up Secretary Michael Gove said: "We are firing the starting gun on more than a hundred transformational projects in every corner of the UK that will revitalise communities that have historically been overlooked but are bursting with potential. This new funding will create jobs, drive economic growth, and help to restore local pride. We are delivering on the people's priorities, levelling up across the UK to ensure that no matter where you are from, you can go as far as your talents will take you."
For more information visit the gov.uk website.