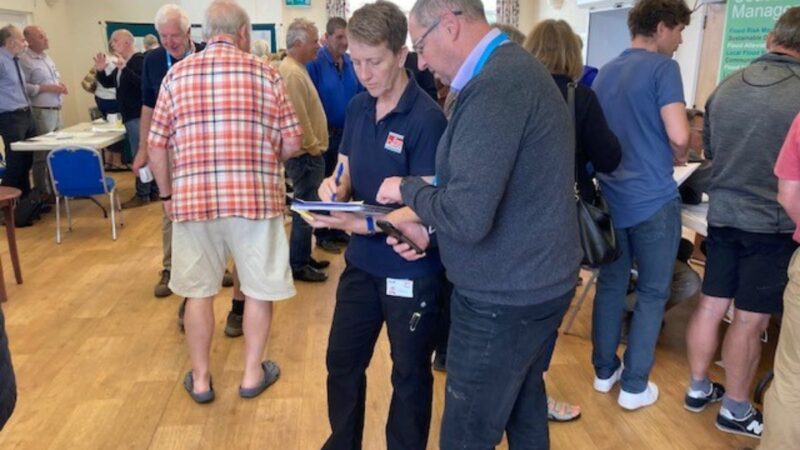 A final drop-in session for communities in East Devon impacted by last month's flash floods will be held in Tipton St John next week.
Following successful drop-in events at Newton Poppleford and Colaton Raleigh, which have been attended by over 150 local residents, a final session will be held at Tipton St John Community Hall next Wednesday (7 June) from 2pm-5pm.
Residents who have not yet attended one of these previous sessions we've organised jointly with East Devon District Council and the Environment Agency are encouraged to go along and share their experiences of the recent flood events with officers from each of the partner organisations.
Councillor Stuart Hughes, Cabinet Member for Highway Management, said:

"We've had a good response from local communities attending the previous drop-in sessions, and this final event is a chance for anyone who hasn't been able to come along so far. With the eye-witness accounts and information officers have received so far, we're gaining a much better understanding of the flood event and how it unfolded as well as the unfortunate scale of damage to people's properties."
Matt Blythe, East Devon District Council's Assistant Director for Environmental Health and Climate Change, said: "Officers from East Devon are keen to help resolve issues for residents affected by the recent devastating heavy rainfall including temporary housing, waste clearance, financial support, and planning considerations. After successful drop-in sessions in Newton Poppleford and Colaton Raleigh, I would encourage those who we have yet to speak to come along to this latest event in Tipton St John."
Jon Snowden, Recovery Manager for the Environment Agency, said: "These events play an important role in helping the community recover from the recent flooding. They provide us with an opportunity to engage with the community and learn from their experiences, and they're also an opportunity for neighbours to come together and support each other, keep up to date with developments and learn about the next steps."
As part of the ongoing investigation, the partners involved in the flood recovery will be collating information from the drop-in sessions as part of the Flood Investigation Report which we will produce and publish over the coming months. This report will aim to highlight the source and extent of flooding and what work could be done to help make communities more resilient and reduce the risk of further flooding.
Anyone who would like to submit their information should email floodrisk@devon.gov.uk For other useful contact details and answers to FAQs visit East Devon District Council's webpages.