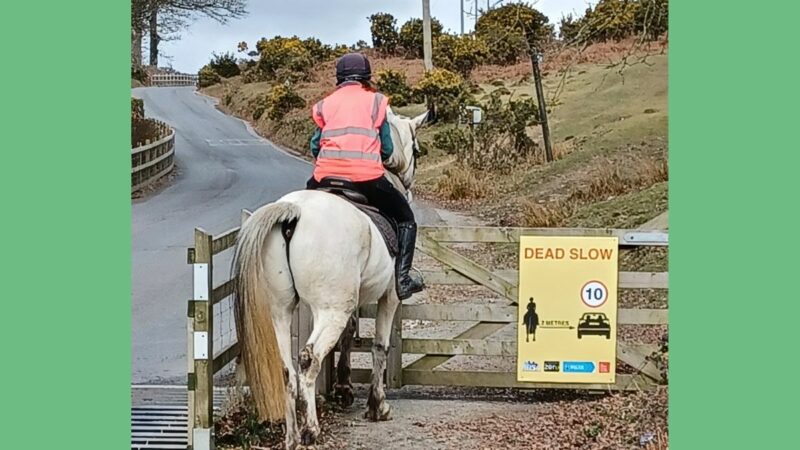 New roadside posters encouraging road users to slow down for horses and their riders are being displayed in parts of Devon.
We're supporting The British Horse Society's (BHS) "Dead Slow" road safety campaign, teaming up with the BHS, Horses & Road Safety Awareness (HRSA) and Vision Zero South West to promote the campaign in the county.
The aim is to educate motorists on how to approach and pass horses safely on the county's roads, with the posters advising drivers to reduce their speed to a maximum of 10mph and leave at least two metres space.
Since 2018, around 375 incidents involving equestrians on Devon's roads have been reported to the Police and the BHS. These collisions have left 19 horses injured and three dead, while 29 horse riders have been injured and one rider killed.
Councillor Stuart Hughes, Cabinet Member for Highway Management and Vice Chair of Vision Zero South West, said:

"It's essential for motorists to slow down and leave plenty of room when passing horses, and hopefully these new posters will put that at the forefront of people's minds when on our roads. Horse riders have the same right to be on the road as motorists, but they are vulnerable and horses can be startled, despite the best efforts of the rider.

"Far too many horses and riders have been killed or injured on Devon's roads in recent years, and we can all play a part in reducing the number of incidents. I would urge all road users to respect each others' safety as well as their own."
Alan Hiscox, Director of Safety at The British Horse Society, said: "Horses are still being killed and injured on our roads, riders continue to be seriously injured and too many drivers underestimate the importance of driving carefully around horses. This is detrimental to the safety of equestrians. You only have to look at the two horses who were tragically killed in the space of just two weeks at the beginning of 2023.
"Together, we can stop these tragic incidents from happening over and over again. To do this, it is essential that we all follow the Highway Code guidelines in place, which are aligned with our key Dead Slow behavioural messages. Collaborating with Devon County Council, and displaying these posters, will be a critical step towards driving greater awareness and ultimately improving the safety of all vulnerable road users."
Hayley Stokes, Founder of the HRSA, said: "Horses and Road Safety Awareness began as a group to let riders share their experiences of riding on the road. Over the years we have supported many people through the trauma of injury and the loss of their beloved companions. We use social media to encourage safe driving around horses and livestock using the roads, and to educate riders on how to ride out safely. The damage to humans, horses and cars can be catastrophic when an incident occurs and it never needs to.
"By working cooperatively with the BHS and local council we hope to at least make drivers aware of their actions and the law. We want drivers, cyclists and riders to work together and find compassion for each other to make the road a safer place for everyone to enjoy. The posters are there to protect everyone. Thank you to Devon County Council for supporting the Dead Slow Campaign."
Areas where the posters are located include Killerton and Poltimore in East Devon and gateways to Dartmoor at Holne, Wotter, Meavy and Cornwood.
The advice to motorists when approaching horses on the road is:
• Slow down to a maximum of 10mph;
• Be patient. Don't sound your horn or rev your engine;
• Pass the horse wide and slow (if safe to do so), leaving at least two metres if possible;
• Drive slowly away.
Feral or semi-feral ponies found on Dartmoor and Exmoor require the same consideration as ridden horses when being approached or passed.
The BHS also offers the following guidance for horse riders to keep themselves and their horses safe:
• Always wear hi-vis clothing and equipment – even on bright days;
• Wear protective headgear to current approved standards;
• Unless necessary, avoid riding in failing light, fog or darkness, or when it is snowing or icy;
• Show courtesy to drivers – a smile and a nod are enough if your hands are full;
• Take The British Horse Society Ride Safe Award.
The BHS encourages all horse riders to report incidents or near misses via its website
or download the BHS Horse i app to report incidents via your mobile phone or tablet.