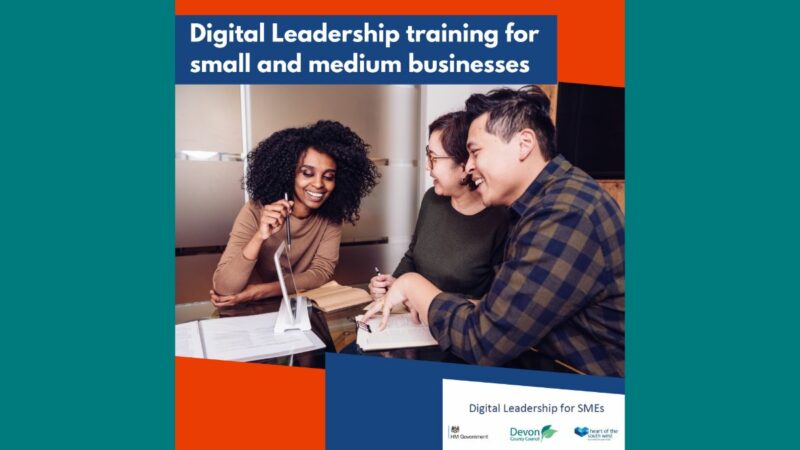 A new training programme has been launched to help small businesses in the region to improve their digital capabilities.
Digital Leadership for SMEs (small and medium enterprises) is providing training for senior leaders of small and medium enterprises in Devon, Plymouth, Somerset, and Torbay. 150 training places are available, providing up to 32 hours of free tutor training.
The scheme has been designed to help small businesses to identify and embrace digital improvements for their organisation. The aim is to help them integrate digital technologies to gain a competitive advantage, streamline processes and enhance productivity.
The training is available for senior leaders of SME organisations, who are located in and operate their business in either Devon, Plymouth, Somerset or Torbay in the following sectors:
Health and Adult Social Care,
Manufacturing,
Clean Growth (businesses that contribute sustainable and low carbon economic growth)
The Digital Leadership for SMEs programme is led by us and delivered by Cosmic. It is part of the Heart of the South West local growth deal funded Digital Skills Series, and supported by the Heart of the South West LEP.
Councillor Rufus Gilbert, Cabinet Member for Economic Recovery and Skills, said:

"Local businesses can benefit greatly from this training opportunity. Integrating digital technology into your business plan is vital and it can support SMEs to improve the customer experience, and improve collaboration across organisations. We firmly believe that this programme can play an important role in helping to drive growth in the Heart of the South West region."
Karl Tucker, Chair of the Heart of the South West LEP, said: "Digital leadership is paramount for the sustained growth and success of SMEs in our region. Through funding this skills programme, we are delighted to support the development of senior leaders, empowering them to leverage digital advancements and drive innovation within their organisations."
You can apply by completing the online application which asks a few simple questions to ensure that you're eligible.
Digital Leadership for SMEs is committed to inclusion and social mobility and we welcome applications from:
Women
Adults aged 50+
Neuro-Diverse individuals
Disabled individuals
Individuals from ethnic minority backgrounds
For more information visit the Digital Leadership for SMEs webpage.