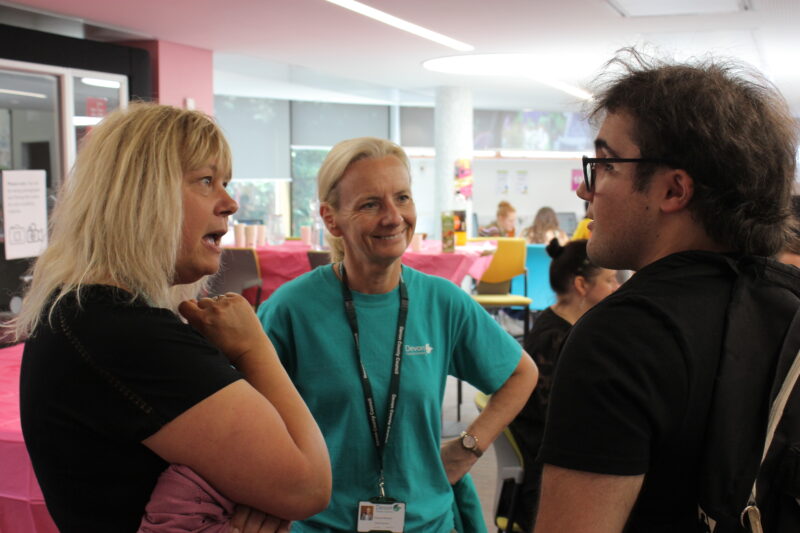 Young people have described how our Youth Hub Devon service helped them into education, employment or training.
They were among guests at a celebration at Exeter Library this week, which is where Youth Hub Devon recently re-located to.
Since the service started in 2021, 500 young people have been referred to it for a range of support, including career advice, help with CV writing, interview skills, and signposting to other relevant services. And of those, over 200 have been helped to find their way to education, employment and training.
To celebrate the success, not just of the service but also the success of all those so far helped by the service, we arranged a special get-together this week.
It was well attended, and provided an opportunity for people helped by the service to meet senior council officers, including our Chief Executive, Donna Manson and our Head of Service Economy Enterprise and Skills, Keri Denton (pictured), to talk about their experience.
One young attendee described how the service had helped him.
"I've had a rocky start at college, but the Youth Hub has helped me with that by finding a course for next year and part time jobs between that.

"If you are struggling with college, or you're a bit lost and you need a bit of help, the Youth Hub is a really helpful tool.

"It's helped me write a CV, cover letter and taught me how to use the technology on websites such as Indeed to find jobs. I'd recommend it."
Anastasia, from Exeter, has received several job offers in the hospitality sector after attending the Youth Hub. She said:
"I found Youth Hub a very good place where I can turn to for help. They've helped me a lot in finding a job, CVs, apprenticeships and to deal with my thinking.

"Each of our meetings is very productive and informative. In general, this is a nice place for people in need of help."
Speaking before the event, Councillor Rufus Gilbert, our Cabinet Member responsible for economic recovery and skills, said:

"It's an incredible achievement to have helped over 200 people so far and the recent relocation to Exeter Library is an opportunity to grow the Youth Hub even further."
Keri Denton, Head of Service Economy Enterprise and Skills, said:

"Youth Hub Devon has gone from strength to strength, giving advice to hundreds of young people, and supporting many of them into employment."
If you are aged 16 to 24 and would like help into employment, education or training, please get in touch. For more information, visit our website.