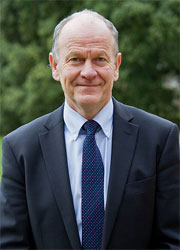 Dave Black is Head of Planning, Transportation and Environment.
Role and responsibilities
The Planning, Transportation and Environment service includes the strategic infrastructure planning and statutory responses including development of the Education and Transport Plans and other strategic documents, such as the Waste and Minerals plans.  Additionally, services include development and delivery of large infrastructure projects including planning applications, consultations, overview of planning applications and delivery of projects to enhance the ecology, landscape, marine and historic environment of Devon, and progressing the carbon management agenda. The responsibility for planning schools infrastructure, sustainable travel and road safety resides in this team along with the flood and coastal risk management functions. The Transport Co-ordination team provide a range of public transport services including subsidised services, concessionary fares, fleet management and services to education and the NHS.
Biography
Dave originally trained with Devon County Council, where he subsequently worked for 13 years. He then worked for Parsons Brinkerhoff for 20 years becoming Technical Director responsible for the Transport Planning Section UK. In 2009 Dave re-joined Devon County Council.
Recent projects for Devon County Council include giving evidence at the Kingskerswell Bypass Planning Inquiry and developing the new Local Transport Plan jointly with Torbay. He has been responsible for the County Council's input to the various Local Development Frameworks and has given evidence at most of the Examinations in Public. Other strategy documents include Minerals and Waste Local Development Frameworks, the Education Infrastructure Plan and the Local Flood Risk Strategy and Exeter Transport Plan. Other current projects include the North Devon Link Improvement, South West Exeter Homes Infrastructure Fund and the A382 improvement in Newton Abbot.
A series of schemes are currently being developed for funding through various government initiatives such as a pinch-point fund and Local Transport Boards.
See the direct reports for Head of Planning, Transportation and Environment below:
Dave's direct reports are: (please note that the links below are intended for Devon County Council staff only and are therefore not publicly available)
Brian Hensley
Peter Chamberlain
Damien Jones
Simon Niles
Mike Deaton
Jamie Hulland
Please note that due to the implementation of a new HR system the links to structure charts are not currently available. We are working on a new process in order to be able to provide this information again.