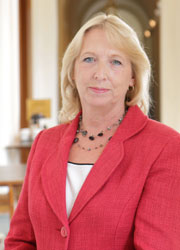 Dawn Stabb is Head of Education and Learning (Deputy Chief Officer).
Role and responsibilities
Dawn's Education and Learning portfolio includes school improvement, educational performance and early years, ensuring the best learning opportunities for Devon's young people and The Virtual School for Children in Care. Dawn also oversees schools' admissions and transport.
Biography
Dawn joined Devon County Council in 2014 as the School Improvement Strategy Manager and took up her present role in 2016 . She holds a Master's degree in education and is responsible for more than 90,000 children in Devon's schools. Dawn's experience spans the education sector from early years to post-16. She joined Devon County Council from a multi-academy trust where she was deputy executive head. She has also worked with the Specialist Schools and Academies Trust and the National College for School Leadership. She is married with three grown-up children who were all educated in Devon schools.
See the direct reports for Head of Education and Learning (Deputy Chief Officer) below:
Dawn's direct reports are:
Simon Niles: Schools Planning, Pupil Placement and Commissioning Manager
Val Smith: Early Years and Childcare; Commissioning Children's Centres and Hospital School
Julia Foster: SEND Senior Manager
Marc Kastner: Strategic Lead for Inclusion
Wendy Ohlson: Virtual School Head Teacher
Richard Reece: Education and Business Systems and Contracts Manager
Joanne Siney: Senior Manager – Disabled Children's Service
Please note that due to the implementation of a new HR system the links to structure charts are not currently available. We are working on a new process in order to be able to provide this information again.