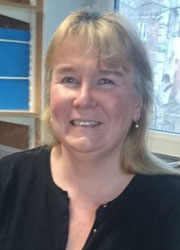 Meg Booth is Director of Climate Change, Environment and Transport.
Role and responsibilities
Meg has responsibility for managing Devon's assets including highways, schools and county estates, and the Council's Capital Programme. The service also helps the people of Devon to reduce their waste.
Biography
Meg joined Devon County Council in 1989 as a graduate trainee, starting in the design team, which is now Infrastructure Development. Meg progressed into highway maintenance becoming Divisional Surveyor for East Devon, and then larger geographical areas of the County, before joining the highway asset team. She has been in the post of Chief Officer for Highways, Infrastructure, Development and Waste since the retirement of David Whitton in April 2017.
Meg is a Chartered Engineer and a Member of the Institution of Civil Engineers, a Fellow of the Chartered Institution of Highways and Transportation and has a BEng in civil engineering.
See the direct reports for Director of Climate Change, Environment and Transport below:
Meg's direct reports are: (please note that the links below are intended for Devon County Council staff only and are therefore not publicly available)
Robert Richards
Kevin Dentith
Chris Dyer
Wendy Barratt
Vacant (Chief Engineer)
Please note that due to the implementation of a new HR system the links to structure charts are not currently available. We are working on a new process in order to be able to provide this information again.