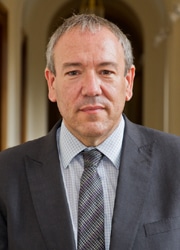 Tim Golby is Interim Director of Integrated Adult Social Care
Role and responsibilities
To provide the strategic management of the Council's services for adult care, strategic commissioning for adult services and a strategic relationship with health.
To act as the Council's statutory Director for Adult Social Services (DASS).
To lead on joint strategic commissioning with the NHS.
To work in partnership with members of the Health and Wellbeing Board to improve health and wellbeing for Devon's citizens.
To ensure appropriate safeguarding arrangements are in place within the council and across the partnership.
Tim also has overall responsibility for commissioning high-quality services to meet the social care needs of people in Devon, for quality assurance and for the implementation of change proposals.
Biography
Tim joined Devon County Council in 1987 as a graduate trainee accountant and gained his professional qualification in 1991. He has worked in roles in social care across the county (Plymouth, Bideford, Honiton and Exeter) in a range of financial, operational and project management roles. In his role as Head of Adult Commissioning and Health his accountabilities included identifying the social care needs of the population of Devon and identifying models of care that can meet those needs in a period of growing complexity and demand.
From April 2019, Tim was seconded to a new joint role as Associate Director of Commissioning, taking on additional responsibilities within the NHS.
Integration of social care and health is a national priority in the NHS long term plan and in Devon, Tim's role will help to develop integrated working by working closely with our NHS commissioning partners. He reports to both the NHS Clinical Commissioning Group (CCG) Director of Commissioning and Jennie Stephens, Chief Officer (Adult Care and Health) Devon County Council.
Tim works with the commissioners and providers of acute hospital and community services, primary care, mental health and social care to plan, finance and deliver services.
See the direct reports for Interim Director of Integrated Adult Social Care below:
Jennie's head of service direct reports are:
Keri Storey – Head of Adult Care Operations and Health

Gary Patch – Deputy Head of Adult Care Operations and Health
Sarah Mackereth – Assistant Director Adult Social Care (Western Devon)
Stella Doble – Assistant Director Adult Social Care (Northern Devon)
Sarah Mackereth – Interim Assistant Director Adult Social Care (Southern Devon)
Lee Baxter – Assistant Director Adult Social Care (Eastern Devon)
Tina Ramage – Principal Adult Social Worker
Carolyne Hague – Principal Adult Occupational Therapist
Vacancy – Assistant Director for County Wide Services and Disability
Solveig Wright –  Deputy Head of Service – Adult Commissioning and Health
Rebecca Hudson – Senior Commissioning Manager – Disabilities
Ian Hobbs  Senior Manager – Workforce and Carers
Derek O'Toole – Head of Mental Health Commissioning for South Devon and Torbay & NEW Devon Clinical Commissioning Groups
Geraldine Benson – Principal Social Worker
Damian Furniss – Senior Manager – Policy, Performance and Involvement
Giles Colton – Senior Manager – Transformation
Steve Blandford – Quality Assurance Lead
Nicola Tribble – Senior Commissioning Manager – Markets