Spring 2019 Equipment News
We were lucky to have the OT Adaptation Conference on our doorstep at Exeter racecourse this week! 
Our favourite gadgets at the event were the SitNStand an inflatable, portable rising cushion that can be used on any chair and assists the person to rise from the chair. It packs neatly into a carry case, so it can be used when out and about as well as at home. It might look a bit bulky in this picture but that was in full rise position and the lift from sit to stand is surprisingly steady and smooth. See it in action on their website.
Handicare were showing their Minilift, which has been around for a few years but we hadn't appreciated how good it is. The Minilift is not only compact but also easy to set up for use with a small or tall person. The sling is supportive and comfortable and the standing movement smooth and steady. See their other innovative moving and handling gadgets on their website.
TEC Angel demonstrated their home monitoring system. The discreet sensors are placed around the home to monitor activity and movement from room to room, only sending an alert to a carers mobile phone when danger is indicated. It can be used to alert if there is a risk of falls at home or wandering or signs of self-neglect. The carer can adjust the settings of the alerts to suit the person and their lifestyle. Their website has lots of information about the system and we think it will be a great help to anyone supporting a vulnerable person to live independently.
We were pleased to meet the team from Jewson Exeter who are in partnership with Symphony Kitchens and have a display of accessible kitchens and their designer Adam Thomas has ensured that the showroom is fully accessible and full of practical but beautiful kitchen designs. Adam also runs courses in  accessible kitchen design.
Langhams have addressed the problem of the traditional toilet frame with seat, which is too high for effective use and the aperture too small to accommodate most people who sit to use the toilet. Their Prima range is still in development, but it will be several inches lower than the traditional toilet seat with frame and the aperture is a large oval or a large horseshoe shape. It is not available yet but it will be a welcome addition to the range of equipment to support people to use the toilet independently and effectively.  Their website is full of other useful gadgets.
We are looking forward to the arrival of a new Geberit Mera Care toilet bidet which should be installed into our assessment centre in the next few months.
It was good to chat to Wales and West Utilities about their Priority Costumer scheme that ensures that no one is left without power or water if they live with a disability. We are also looking forward to receiving our demo model of the brilliant SGN gas shut off valve which can be used by carers to ensure the cooker gas supply only available when safe to use.
Do call us if you would like to make an appointment to visit the equipment assessment centre for advice from our occupational therapists. Or we can come to your support group or carers group in Devon to  demonstrate the latest gadgets and innovations.
__________________________________________________________________________
7th March 2019
We were asked to speak at the 'let's talk Continence' event at the Riviera Centre in Torquay last week. We spoke to nursing teams, carers and Bladder and Bowel specialist nurses about equipment and position to maintain continence.
We also presented our thoughts on  'Managing Continence when Living with Dementia' 
How Can Dementia  Affect Continence?
The person may not recognise the feeling that bladder or bowel are full.
Poor mobility may prevent timely access to the toilet.
Difficulty with communication may prevent the person asking for help to the toilet.
The person may not be able to find the toilet or recognise the toilet.
The person may forget how to perform the actions needed to use the toilet.
They may not recognise that they are on the toilet so may not use it.
The person may be unwilling to have assistance with personal activities.
They may be too distracted by the environment to use the toilet.
Tips to Promote Continence for a Person with Dementia
Establish a routine with reminders or a 'timetable' for regular toilet use.
Ensure they drink enough fluids to encourage bladder and bowel function.
Keep the route to the toilet clear and well lit.
Make sure the toilet door is visible, recognisable and easy to open and close.
Keep the toilet area uncluttered so that toilet can be recognised.
Only use extra equipment if it is essential for getting on and off the toilet.
Give the person privacy and time to use the toilet in a calm environment.
When on the toilet the person may need reminding to empty bladder and bowel.
Use familiar and calm words and give simple/clear instructions.
If safe to do so, encourage the person to lean forwards when seated or to touch their toes or to press their tummy gently to help bladder and bowel to empty.
Choose familiar clothing, with elasticated waist or simple fastenings.
Use pads that can pulled up and down easily when using the toilet.
If the person needs to go to the toilet at night, ensure bed equipment and lighting helps them to get up, find the toilet, urinal or commode and get back in to bed.
Choose night time pads with greater absorbency and an absorbent draw sheet may reduce need to change wet sheets in the night.
Time spent productively on the toilet can reduce pressure and stress for all.
See our Before You Buy Guides 
Call our Occupational Therapy team 01392380181  for further advice on equipment for independence and continence.
_____________________________________________________________________________________
4th March 2019
NEWSFLASH
Devon County Council has launched a SELF ASSESSMENT website for Devon Residents who are looking for equipment to stay safe and independent at home.
See this link to 'Devon NHS and Social Care Daily Living Self Assessment Website' and follow the process to find equipment to help you.
_____________________________________________________________________________________
January 2019
Use Your Existing Technology to Manage Your Medication
Medication Reminder App Review 2019
Remembering to take the correct dosage of prescribed medication, at the right time, can be difficult. You will find our  Before You Buy Equipment to Manage Your Medication   guides gives you some ideas and gadget solutions to help with this.
The built in technology in your existing mobile phone can be used to set up text or audio reminders. But if a simple timed reminder is not enough, then consider some of the medication reminder APPS that are available for Apple and Android phones.
Our team of occupational therapists are always looking for new apps to help people stay safe and independent at home and when out and about, as well as apps to help you manage medication and everyday tasks.  We have reviewed some apps to help you manage your medication and you we think you might find this overview useful.
 Med
isafe is a medication reminder that prompts you to take specific medication at the right time. The initial set up can be complicated if several meds are required at different times, but, once installed it is fairly easy to use. The app gives an audio and text notification reminder on your phone screen, then when you open the app it gives details of the specific medication that you should take.  The reminder can be personalised to help you recognise which meds to take. When you take your medication you must also must confirm, on the app, that the medication has been taken. You could add a 'medfriend' (friend or carer) to the app, who will be alerted if you do not confirm that meds have been taken. The carer/friend can also log in to your account to see which medication you have taken that day. This app can be used for recording health info such a blood pressure and send a reminder when medication stock is low.  It is simple to use and works reliably on both Apple and Android phones.  For this and all the medication reminder apps to be effective you do need to be willing to take your medication and be able to 'confirm' that you have taken the dose when alerted. The basic reminder app is free but you have to subscribe if you want to use it's more complex functions.
Dosecast is another medication reminder that has similar features to Medisafe, with the added bonus of functioning with or without, an Internet connection, and it also keeps track of time zone changes and adjusts reminders accordingly if you are travelling.  Again, when using this app you must be willing and able to dispense and take your medication.
My TherapyApp  is a medication reminder like the others but also has the facility to photograph your medication bar codes  to g
ive you more information about the medication you are using. The app incorporates a health monitoring system, reminding you to stay active and tracking your activity and symptoms too, which can help your medical team to identify the best times to review dosage and timings of your current medication. Feedback for this app mentions the ease of use and effective reminders but only if you are compliant and able to take your medication.
Do you want to find out more about apps to help you manage your condition and everyday life?
We have
 a great resource in Devon with the My-Therappy  team who research and review apps for health and to help you stay safe and independent. Have a look at their website for more information, and you might also find some interesting apps on My Healthy App
If you have any feedback about apps you have used to help with medication management or to manage day to day activities please let us know!
---
Newsletter December 2018
Gadget Gift Ideas
We have been on the hunt for gadget gift ideas for your loved ones at Christmas; here are some of our favorites. They are all at the ILC so come and see them in action!
Active Hands are always amazing us with their innovative solutions to practical problems, helping people with reduced grip to mange daily activities. Their 'Small Item Gripping Aid' is a glove with a Velcro pad attachment for holding tools from a pencil to a make up brush!
We are  also impressed by their 'Spill Not Cup Holder' designed to help you carry your drink without spillages, even if you don't have a steady hand.
We also tested the 'Rosebud Reminder Clock' from Ravencourt – a simple to set up clock to which you can add audio & visual reminders. A great product for £69.99!
Smart and functional, the 'HelpOnHand Watch' from Oysta is not only a watch, but also includes reminder messages, location tracking and an SOS button offering a simple way to call for assistance!
'The Droplet' is a nifty mug and tumbler set which monitors the frequency of your drinking. It lights up to remind you to drink, and can be personalised with voice reminders. 
APPy Christmas!
Our Occupational Therapists are pleased to be working in partnership with my-therapy www.my-therappy.co.uk to find the most useful free Apps to help with day to day tasks! Our favourite this month is 'Prompt' by Memrica – create reminders and make them personal to you using photographs and locations. Available on iOS technology.
---
News from the Independent Living Centre:
An OT student experience
The scariest part of my Occupational Therapy degree is definitely the night before placements are allocated. As a student, we are given three placements over our degree, with varying degrees of pre-placement nerves; will I like my placement, will I be good enough, and have I made the right choice in my degree (and future profession)? However, when I started my student placement here at the Independent Living Centre, I not only felt I'd found the right placement, but I'd made the right choice for my future profession.
The Independent Living Centre is a free and impartial service that can assess service user's requirements and help users to find and try out the best equipment to suit their needs. The range of assistive equipment was staggering, and I was shocked that there were so many simple and creative gadgets to help with day-to -day difficulties that I never knew existed. For instance, if you struggle to put your socks on in the morning, you can try the Ezy-On Sock Aid, a simple frame that you can cover with your sock and push your foot through! If you struggle with eating your meals, you may like to try the wider grip cutlery, the S'up Spoon (a covered spoon to avoid food falling off) or even a simple plate guard, which can allow you to eat one handed or prevent spillage from shakey hands!  If you have difficulty transferring from your car, the Handy Bar is a simple and lightweight device which hooks onto your car door frame for you to push up from. One of the gadgets that impressed me the most was the Easi 2 Drink Mug with insert. To the casual observer, it looks like any other plain mug but with an odd, plastic frame inside. However, this ingenious invention was designed for those at risk of spilling hot drinks, as the insert can reduce the wave motion of liquid.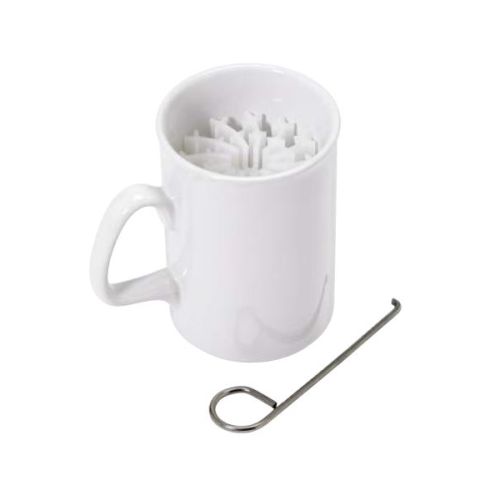 The great thing about the Indepdent Living Centre is that they do not sell any products; therefore service-users can make appointments to see and try up to date assistive equipment without any pressure to buy, all whilst being supported by a welcoming and informative Occupational Therapist who specialises in assistive equipment. During my placement here, I have observed first-hand how beneficial service-users find this support; they can explore more complicated equipment before they make a commitment to purchase, or they can be advised on simpler or cheaper alternatives. For example, one couple this week were considering making the larger investment of a profiling bed (retail price around £3000), however the Occupational Therapist suggested a mattress variator profiling frame, a much cheaper device which fitted under their mattress, provided the same motion and meant they could keep their much-loved bed!
As a student at the ILC, my experience has opened my eyes to a whole new world of equipment that can make people's lives so much easier, and a range of creative solutions that can help service-users maintain independence and autonomy in the activities that bring them meaning and enjoyment. I am excited to continue my placement here, and look forward to the knowledge I will gain when my 9 weeks is up. Who knows, I may one day be asked, as an Occupational Therapist, if a device exists that can stop liquid spilling out of a mug, and I'll know exactly what to say!
---
2nd AUGUST EQUIPMENT NEWS
We are pleased to launch our new look website where we will be able to keep you up to date with gadgets, innovations and equipment that we have at our NHS and Devon County assessment centre here in Devon.
Technology Enabled Care (TEC) is constantly evolving with more people using 'Smart Home' systems to enable independence at home. We are fortunate in Devon as many of our local telecare call centres have added new technology enabling their traditional alarm systems to be linked to equipment such as linking smoke alarms, fall detectors and door openers. Some centres now offer rental of wander alerts which can give carers peace of mind that the person they care for can have the freedom to access the local community but can be located easily using a map location on their phone. The Pebbell Tracker is one of the simple tracker devices that Home Call Alarm services are using in Devon. See a list of local call centres on our website.
Your own mobile phone or PC can give access to Smart Home Technology and phone apps to monitor care and health needs as well as controlling your environment by adjusting heating, lighting, and even answering the door. The new range of doorbells with a camera mean that you can see and speak to whoever rings the bell, using your phone form wherever you are.
With more people working at home and using their PC for leisure activities we are increasingly asked for information about office seating that is comfortable, supportive and functional. One of our team recently attended training with Ergochair and we have some of their range here for you to try. A wheeled office chair is tricky for getting on and off but some companies make more specialist models with brakes that can be operated from the seat, call us for information about these. We are pleased to have increased our display of computer hardware, including ergonomic and vertical 'mice' like the Penguin mouse from Posturite; come and see if it works for you.
Back to basics and talking continence, we have urinals and collection devices here but we can't find better than the Beambridge unisex draining urinal, connected to a collection bag, handy for women and men to use in bed or chair without the risk of spills. Beambridge also supply a wheelchair cushion with a cut out to assist when using the urinal while seated. We can give advice and information about clothing choices that make urinal use easier.
Call us to discuss clothing  choices to keep cool this summer. Keeping cool at night can be a challenge and the mesh construction of the  Zonesleep overlay is designed to allow air to circulate when in bed, keeping skin cool and dry. We have one here if you want to see it in action.
We hope you find our new website interesting and useful and easy to navigate; we look forward to hearing your feedback.
From the ILC Occupational Therapy Team