We are here to promote the wellbeing of the citizens and communities of Devon. The challenge we face is to do that with almost 50% less government funding, rising demand and rapidly changing expectations. In order to help us do this, we have developed a performance framework that focusses on improving outcomes for citizens and communities in the most effective and efficient way.
This approach is made up of three views: Strategic Performance (which helps us better understand the future context for Devon), Operational Performance (which helps us understand the how the work we do is impacting on citizens and communities) and Community Performance (which gives an overview of outcomes in Devon communities). Together these three views (lenses) give us, and you, an overview of the performance of our organisation and the health and well-being of our citizens and communities.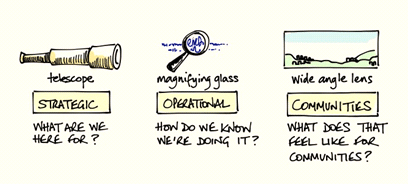 In addition to the three lens views, the Performance Framework is built upon some core principles reflecting the way we want to work as an organisation.
Essentially, the thinking behind this approach is that it can be understood and used quickly and easily, that it is flexible to respond to changes in priority, or social, economic and technological changes, and that we use this information and intelligence to help make the right decisions to respond to the needs of our County.