Supporting Transition in the Early Years
Introduction
We know when young children move onto the next phase of their education that this transition is particularly significant for all involved. Add on the impact of COVID over the past 18 months and we know that this year's transition has the potential to be even more challenging but with careful planning and support we can all work together to achieve a positive experience for everyone.
We also know that there is a great deal of information and this can seem overwhelming so our teams have identified some key 'go to' documents to support everyone involved to find an easy starting point which can lead to further information for you to explore.
General Guidance
Safeguarding One Minute Guide
This document shares key messages in relation to information sharing in relation to safeguarding. The key message is that schools and settings should consider if it would be appropriate to share any information in advance of a child leaving to ensure that the support is in place when the child or young person arrives.
Summary of relevant literature and research regarding transition back to school
This document summarises the vast amount of literature available on returning to school during COVID 19 and highlights the key themes and messages to schools from the research.
Transition booklets for children and young people
There are 4 booklets that have been specifically designed for children, young people and their families to help understand key aspects of each of the transitions.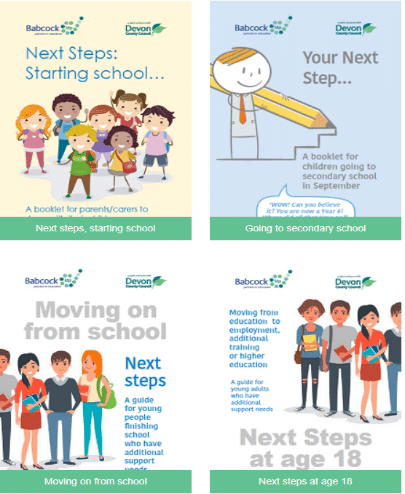 The early years booklet has been translated into 9 languages – see English as an additional language section below.
Starting in Reception
Transitions in Early Years Good Practice Guidance
The aim of this document is to provide good practice guidance for schools and settings across Devon to support effective transition arrangements in the Early Years. This includes guidance at a universal level as well as providing specific guidance in relation to vulnerable groups and those at greater risk of poorer outcomes over transition, for example, Children in Care (CiC) and those with Special Educational Needs and Disabilities (SEND).
Devon's Learning Journey Transition Document
This is a suggested format for sharing information about a child's strengths and areas of development at the point of transition to Reception in relation to the EYFS.
Specific Areas of Need
Considerations for BAME Transition – COVID 19
This transition document looks at the general challenges for children and young people from Black, minority, Ethnic backgrounds accessing school during the COVID pandemic but also provides advice in relation to points of transition where children are moving to a new phase of education
Early Years Transition Booklet for children and families
Translated into 9 languages – starting school booklets
Multi-Sensory Impairment (MSI)
The MSI team have a page dedicated to information in relation to transitions.  It includes some top tips for each point of transition and some guidance and ideas on how to support effective transitions for children with sensory impairments.
Autism
All Guidance and documentation can be found on our transition page – Babcock LDP – Transition – Early Years to Primary to Secondary to Post-16.
Transition: Autism Additional Guidance – Early Years to Primary
This document provides general support and guidance in relation to supporting children with key strategies and approaches to support a successful transition for children with autism as well as lots of useful links to additional resources – link above.
AET Transition Toolkit
This toolkit is a summary of the common issues surrounding transition for young people on the autism spectrum, as well as a guide to the considerations that should be taken by those supporting them. We offer some practical strategies to support transition periods as well as provide a list of useful links to other organisations and support materials.