Course search function on the DEL training website
We are aware that there are some issues with the 'course search' function on the DEL training website.
The issue has been reported to the DEL support team and we hope to have it back up and running soon.
If you do experience any issues when searching for a course, we would recommend selecting the 'find courses' button at the top of the menu bar, then select 'courses' from the dropdown option.
You can then filter the courses by selecting 'is equal to' and select 'early years' from the dropdown list. This will then bring up a list of early years courses and you will be able to select the course by clicking on the course title.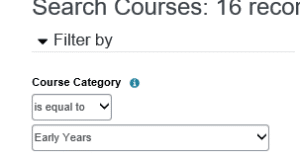 We apologise for any inconvenience this may have caused.
Please contact us if you need help finding a course: eywd@devon.gov.uk