Tools and transactions
Exploring and developing digital tools, technologies and approaches is a fundamental part of offering people in Devon the best possible service. Creating digital services to support a wide range of needs and investing in tools that allow us to operate in a more targeted, efficient and timely way, make it easier for citizens and our staff to do what really matters.
View our ICT Roadmap 2020: doing what matters for the future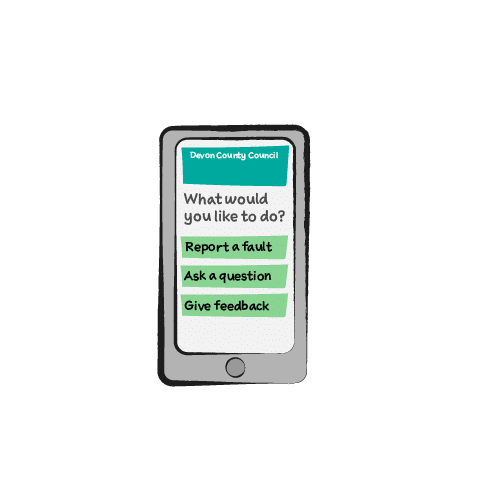 Making life easier with digital tools and technologies
We are investing in digital technologies because we want to make life easier for people in Devon, our staff and those we work with.
Sarah Elliott - Devon IT Services
Did you know?
Over 90% of the 18,000 applications for school places in 2017/18 were completed online.
An average of 17,500 people a month currently use our Pinpoint online directory of community services. We expect this to rise to over 25,000 by 2020 as a result of targeted promotion.
Making it easier to do the things that really matter
Doing business with the Council online

Delivering services online in an appropriate way, offers easier and greater access to all people in Devon. Our focus is to ensure simple transactions can be streamlined to avoid inefficient and unnecessary processes, for example;
making a payment
online chat facilities
reporting a problem
e-marketplace/procurement
self-serve facilities
assisted digital applications.
Giving staff the tools to work flexibly

Reducing inefficient processes, investing in cutting edge technologies and giving staff the tools and flexibility to work closer with citizens, for example;
freeing social workers to spend more time with clients
delivering 'live' information to aid decision making
using the latest technology to plan and problem solve.
We are a digital Council and will offer digital solutions

Digital is at the heart of our decision making. Our guiding principles ensure we focus on what really matters and where we should invest in digital to provide people in Devon with the best possible service or access to information and support.
taking the time to finding the best solution
using digital to enhance a service, not replace it
creating and using useful data
innovating and exploring new opportunities.
Meeting people's expectations and rising to the challenge

For many people in Devon digital technologies are now a standard part of life, and for others, it's still an unknown. There is a broad spectrum of expectation of how digital should or could be used but in all, the expectation is that it should make life easier and not get in the way. Delivering digital services that meet or even exceed expectation is our challenge and meeting the needs of all will take;
strong leadership
creative thinking and collaboative working
ensuring an assistive digital options are available
investment at the right time and in the right place.
Looking to the future
Where we see the opportunities are for improvement in the way we learn and how our knowledge can be shared.
Explore with us