Traffic management has been reduced on part of the Bridge Road improvement scheme from this morning (Friday 7 July).
The approach to Matford roundabout, from the Devon Hotel direction, is now operating with two lanes open inbound.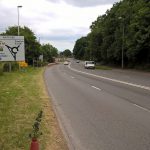 It follows the completion of surfacing and lining work on this section of the scheme during overnight closures this week.
Cones are being left on the verges for the time being, because the dedicated left-turn lane into Bridge Road needs to be closed off during future night-time closures – the next of which will be over three evenings next week.
Bridge Road will be closed overnight from 8:30pm until 5:30am on the evenings of Monday 10 July, Tuesday 11 July, and Wednesday 12 July.
There will be no closures in place on the nights of Thursday 13 July and Friday 14 July, in order to minimise disruption for those travelling to events at nearby Powderham Castle.
The project team is aiming to avoid any more weekend road closures. However, to enable essential work to be finished more overnight closures will be required up until the end of July. Other overnight closure dates will be announced as dates are confirmed.
The diversion route during the overnight closures will be signed via Topsham Road, Alphington Road, Marsh Barton and the A379. Details of the diversion route are available here.
Details of changes to Stagecoach bus services will be available at https://www.stagecoachbus.com/regional-service-updates/south-west/greater-exeter
Keep up to date via the Bridge Road Widening Scheme website.