Bridge Road was closed from 10pm last Friday (23 June).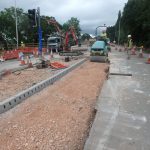 During the night, excavation work was undertaken at two areas where the road structure had previously failed and needed renewing.
This included an area in the middle of Countess Wear Bridge, and an area immediately south of the Bascule Bridge. These areas, plus the widened southbound carriageway next to Matford splitter island, were prepared for surfacing.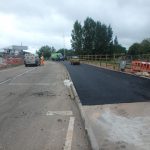 New surfacing was laid in various areas during the daylight hours of the weekend. The first area targeted on Saturday was the widened footpath on the opposite side of the road to the Boat Club, including the improved link to the Canal cyclepath. Binder course was laid in these areas and these paths have now re-opened to the public. This area will receive a final layer of surface course in the coming weeks.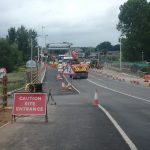 Carriageway repairs were carried out south of the Bascule Bridge. Two layers of base course material were laid on Saturday with the next layer (called binder course) following on Sunday. It is only possible to tackle one lane width at the end of the bridge, because the project team aims to allow a running lane through the whole site to accommodate any emergency services vehicles which are responding to emergencies.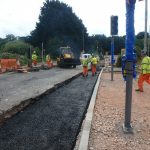 Focus then shifted to Countess Wear bridge for base course installation, and late on Saturday afternoon the men and machinery moved to Matford roundabout to complete surfacing to the side of the splitter island.
Work on lighting also progressed over the weekend. New streetlights were erected on the southern part of the scheme, and Western Power Distribution were on hand to complete the electrical connections.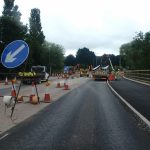 On Sunday, the footpaths leading up to either side of the Rail Bridge received their final coat of surface course. Plus, as noted above, the carriageway areas were topped with binder course. On completion of surfacing the roadsweeper was brought in to clean up the road before traffic could be re-introduced. The road was re-opened early at 8:30pm on Sunday night.