Bridge Road was closed to traffic from 10pm Friday night (5 May) to allow essential widening works to continue.
Five different elements of the new Countess Wear footbridge were installed – two cantilever beams and three sections of bridge deck.  These were each installed with a 120 tonne crane which was positioned across the road for the lifting operations.
The programme for delivery and installation was staggered throughout the weekend, allowing between six to eight hours for each element to allow time for any difficulties that may have arisen during fitting. Fortunately, no problems occurred and each item was lifted and fitted very quickly.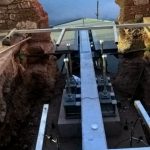 The two cantilever beams arrived on site on a lowloader once the road closure was implemented late on Friday night.
These were both lifted into place in the early hours of Saturday morning into the pilecap pits that regular walkers/cyclists will have been aware of beside the temporary footpath.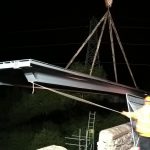 Bridge deck span number two arrived on site early Saturday afternoon and was installed into the gap between the already installed spans one and three.
These had been installed during a previous weekend closure.  Span four arrived just after midnight on Saturday night and was installed by 2:20am on Sunday morning.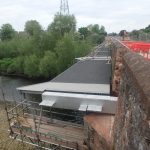 Span five arrived at 5am Sunday morning and was installed just over an hour later.  The crane could then begin the de-rigging process.
Following the completion of new kerblines and footpaths over recent weeks, major surfacing work also took place over the weekend between the railway and Matford roundabout.  The lower levels of the road structure (called base course) were installed on Saturday, with 440 tonnes of this base course being laid, comprising 22 lorry loads of asphalt material.
On Sunday, the next layer (called binder course) was installed, using 200 tonnes of material.  There will eventually be a final layer of new tarmac material across the full road width (not surprisingly called surface course) but this will not be installed until one of the final operations. Surfacing operations were completed by 3pm on Sunday afternoon.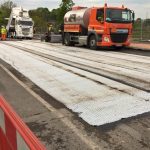 Once surfacing was completed, the road could be prepared for re-opening.  The work area had to be swept before the road-marking crew could begin work to mark out the new temporary traffic lanes.
The metal barriers, which are protecting pedestrians where they are on temporary routes, had all been moved to allow the bridge deck lifting operations. These had to be moved back and fixed in the correct location.
Northbound traffic is now running on the new widened section between Matford roundabout and the railway following re-opening of the road, which occurred slightly earlier than scheduled, at 3am on Monday.