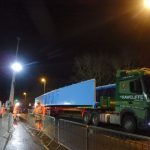 The footbridge over the rail line was lifted in at the weekend. It was fabricated and painted in West Lancashire and was delivered by low loader lorry to the Bridge Road site during Saturday 28 January.
The two reinforced concrete abutments had previously been constructed either side of the railway line; they are supported on 600mm diameter augered concrete piles.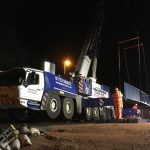 A 300 tonne crane was set up on the North side of the railway line using outriggers and spreader plates to ensure its stability. The bridge was positioned on the existing road bridge.
There was a short wait for the pre-arranged railway "possession", a period of several hours where no trains will pass. Network Rail were attending and gave the go ahead around 12.30am.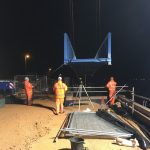 Using a spreader beam and large straps passing under the deck, the footbridge was lifted from the lorry, up over the parapet of the road bridge and down into position on the two new abutments where it rests on thin "elastomeric" rubber bearings and is secured by bolts.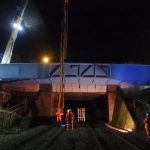 The railway footbridge awaits final adjustments and the installation of interior bolted steel panels and lighting units, but is otherwise substantially complete.
Note there are fixing points along the top edges of the footbridge parapets to allow for the possibility of a canopy in future if required.